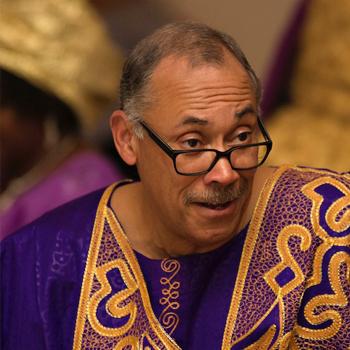 Rev Edward A. Scott was born the first of seven children to Rev. Elizabeth M. Scott of Virginia and Edward M. Scott of Pennsylvania. He attended schools in Pennsylvania throughout the primary and secondary grades and attended college at Slippery Rock State University where he received his BA in philosophy.
He enrolled at Duquesne University to pursue graduate studies in philosophy, eventually earning both his master's degree  and PhD. During the time he prepared for his doctoral exams he received the call to preach the Gospel. He was later licensed to preach and ordained an itinerant elder in 1979 just as he took his first teaching post in Calabar, Nigeria on the west coast of Africa.
Upon his return two years later he was recruited by the legendary Rev. Ulysses A. Hughey to teach at Payne Theological Seminary in Wilberforce, Ohio.
The following year he was assigned by Bishop Vinton R. Anderson to pastor his first church, the historic Holy Trinity A.M.E. Church in Wilberforce. The next year he was assigned by Bishop Hildebrand upon the urging of President Yvonne Walker-Taylor to also serve as Chaplain at Wilberforce University.
In 1986 he was awarded his doctorate and commenced his tenure of four years service as Assistant Professor of Philosophy at Monmouth College in Illinois. Following that appointment he moved east again to teach philosophy at Mary Baldwin College where he has remained since 1990. He committed three years to the work of Interim Dean and Vice President for Academic Affairs at the college before returning to the faculty full time.
Rev. Scott has been the pastor of Allen Chapel A.M.E. Church for the last 26 years and was the pastor of St. Paul A.M.E. Church for three years before that. No other labor has granted him more joy, a joy even rarely equaled, than that which pastoring has afforded. The call, while incomparable by any earthly standard, while heaviest of all the crosses one may bear, and though it may exact a toll by the sum of its urgencies, that same call is still as grace upon grace imbued.
Rev. Scott is the happy husband of Rev. Andrea Cornett-Scott, and he is the proud father of Jacob, Naima and Ellington. He is the grandfather of 5 prodigious grandchildren: Azure, Marquis, Victoria, Alexander and Julius. But first and last, he is the blessed child of the living God.